February is the Month of Love … for Birds!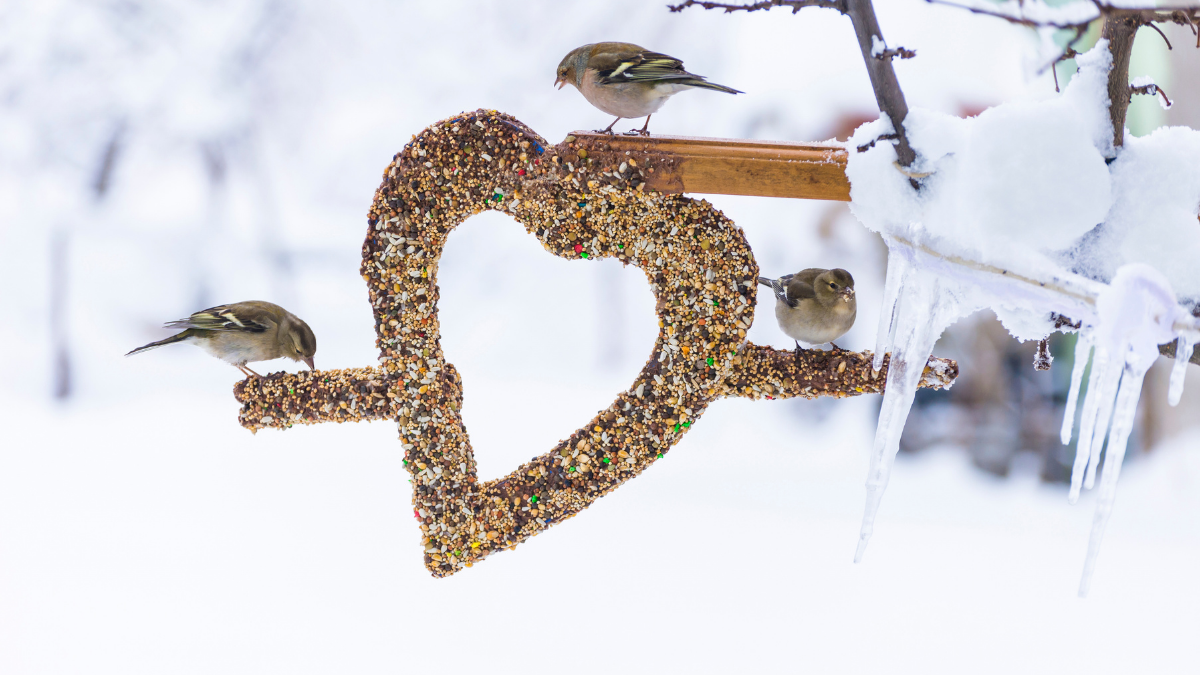 February is all about love. But for wildlife enthusiasts, love expands well beyond valentines, roses and boxes of chocolate. It's time to come together for the love of birds. From counting, feeding and monitoring to building nests and exploring avian migration, there are flock-tons of opportunities to show some love to our feathered friends.
Celebrate National Bird Feeding Month, Feed the Birds Day (Feb. 3)
North Carolina's third month of winter is the time to up our backyard feeding game by providing birds with high protein and high-fat foods they need to maintain their energy and strength. Keep bird feeders full of black-oil sunflower seed, peanuts, suet, quality seed mix (such as sunflower seeds, cracked corn, white proso millet, peanut hearts), nyjer/thistle seed, safflower, cracked corn and freeze-dried or live mealworms. Also check out our list of bird and pollinator-friendly plants, trees and shrubs that are native to the Atlantic southeast.
If you want to make your backyard visitors happy as a lark, consider providing edible garlands or other treats, including fresh berries and grapes, apple or orange chunks or slices, plain popcorn, soaked raisins, prune halves, plain toasted oat cereal, plain whole grain shredded wheat cereal squares, plain, in-shell peanuts, dried orange slices or wedges, small bits of semi-firm cheese, or stale or toasted whole-grain bread. Southern habitats may have more fruit-eating birds that stay in the winter, making strings of fruit an appropriate choice, while nuts and suet are more suitable for colder areas.
Carol Buie-Jackson, owner of Wildology and Birdhouse on the Greenway, will discuss creating a backyard that supports birds and other wildlife by providing food, water, shelter and places to raise young. Fun facts about Carol: She's a self-proclaimed nature nerd who was NCWF's first female board chair and co-founder of HAWK (Habitat and Wildlife Keepers), NCWF's community wildlife chapter in Matthews. Buie-Jackson is certified as a Habitat Steward, Master Naturalist and Master Composter and currently serves on the National Wildlife Federation board. Register here. 
Cornell Lab of Ornithology, Birds Canada and National Audubon Society will host a free webinar to help make birdwatching easier and more fun in time for the 25th annual Great Backyard Bird Count. Sign up to brush up on bird ID, unlock the mystery of bird songs and practice counting birds no matter how large the flock or busy the feeder. Register. 
It's the 25th anniversary of coming together to watch, learn about, count and celebrate birds. Launched in 1998 by the Cornell Lab of Ornithology and National Audubon Society, the Great Backyard Bird Count was the first online citizen-science project to collect data on wild birds and display results in near real-time. Eagled-eyed bird watchers from all over the world spend four days counting as many birds as they can and reporting their findings. 
Many bird species are beginning to scout potential nesting sites for the upcoming breeding season. Ideally, nest boxes should be ready for new or returning tenants by mid-February. That means it's time to erect new nest boxes or tidy up your old ones by clearing them out and inspecting the box for damage. Read more.
Read our blog on how to make changes in your home to benefit birds, including window decals, white window pens and adjusting the distance of your feeders. Read more.  
NCWF's Island Wildlife Chapter formed a community science pod to better track bird mortality along beaches throughout the Cape Fear Region. It's a great way for anyone who regularly walks the beaches in the region to contribute to science and to help our marine birds, which are often indicators of the overall health of the ecosystem. Join here.
Night owl or early bird who catches the worm? Check out these webinars anytime!