Digging in the Dirt: Bog Garden to Help Restore Venus Flytrap Habitat at Carolina Beach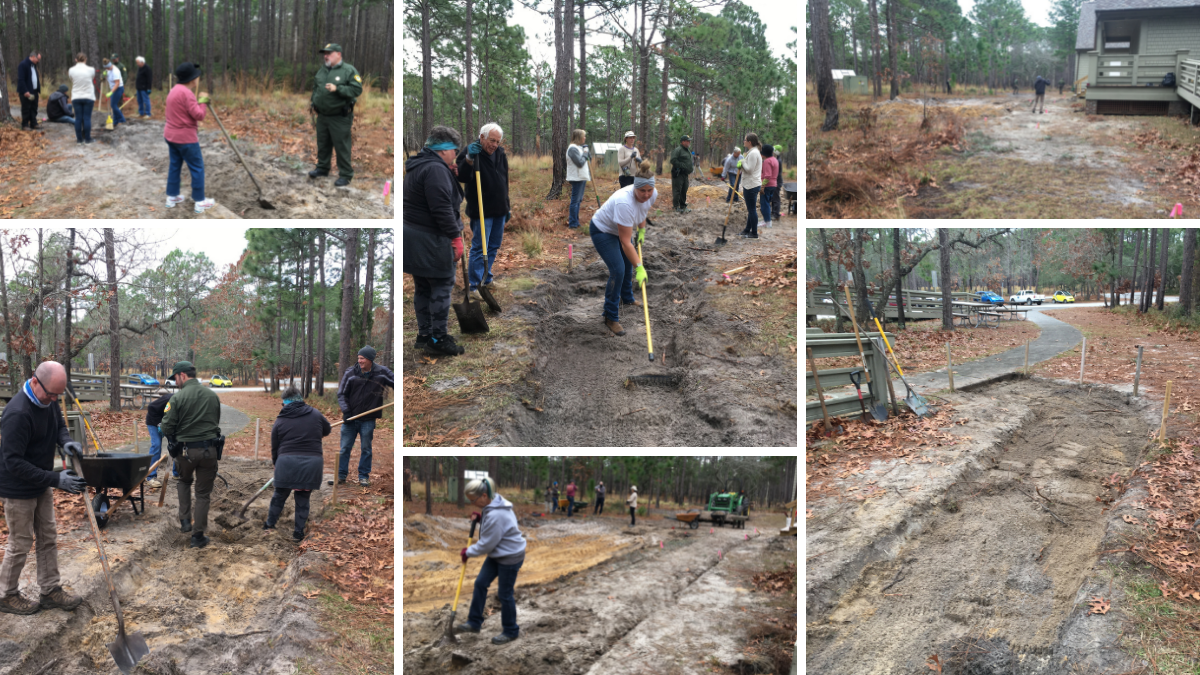 Tons of dirt was flying for Venus flytraps in January when staff and volunteers from North Carolina Wildlife Federation, our Island Wildlife Chapter and Friends of Pleasure Island State Park gathered at Carolina Beach State Park.
After a year of planning, the group broke ground on a carnivorous bog garden to restore flytrap habitat and help reduce plant poaching in the park. The bog garden will be located behind the visitors center to allow people to see the native carnivorous plants in their natural habitat. 
"Due to habitat loss by development, mismanagement of habitat through fire suppression, and poaching of natural populations, the Venus flytrap is on the list of threatened species and under assessment to be listed as endangered," said Madison Ohmen, NCWF's conservation coordinator. "Creating a bog garden will provide educational opportunities for visitors and allow them to admire the Venus flytrap without venturing into the park and being tempted to perform illegal collection."
She added, "The reality is that many people living or visiting within local populations poach them to resell for profit. Poachers uproot the plant, strip off the trap and take just the root bulb. More than 100 can fit in the palm of a hand. Poachers fill their pockets or small coolers with flytraps and sell them wholesale for about a quarter each."
Poaching isn't the only reason for Venus flytrap decline. They're also at risk of extinction because development drains their bog habitats. Roughly 70 percent of historic flytrap habitat is gone.
At the digging event, state park staff used an excavator to create a depression in the ground where pond liners will be laid and filled with peat moss to create the perfect soil conditions to support Venus flytraps, pitcher plants and other native bog plants. 
Meanwhile, volunteers used shovels and wheelbarrows to help dig a path for the ADA-accessible sidewalk and a utility tractor and dump truck to remove the displaced soil. Future plans include the installation of educational signs to raise awareness about flytraps in the wild, the reason for their decline and how people can help.
To learn more about Venus flytraps, check out these webinars: