America's Backyard – In Celebration of North Carolina's Public Lands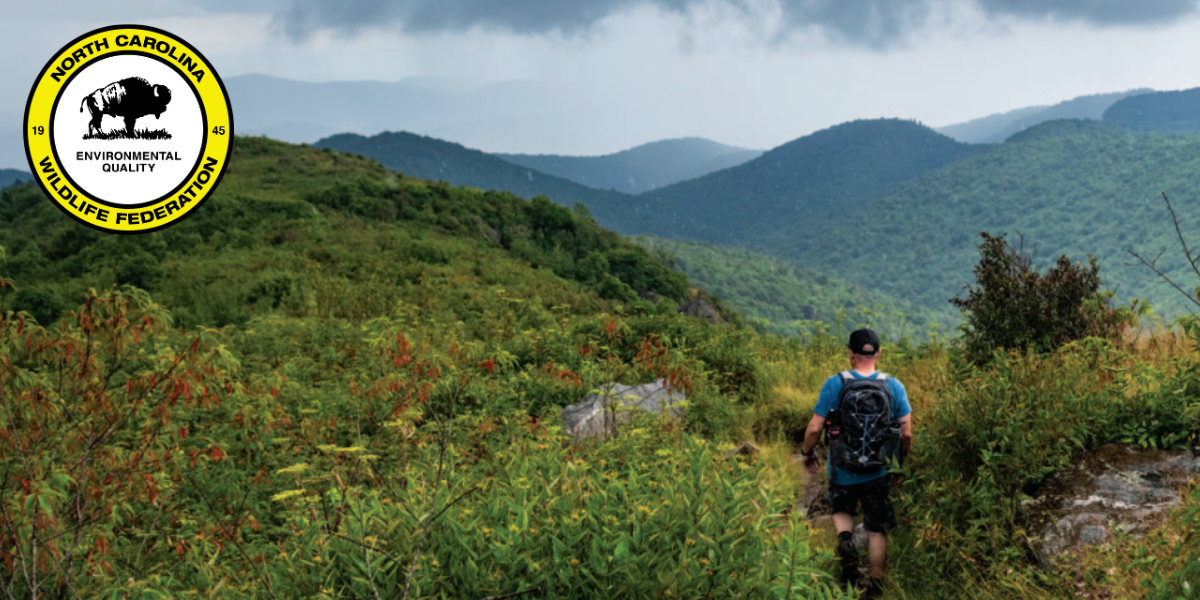 This article was featured in NCWF's Summer 2023 Journal.
The North Carolina Wildlife Federation has a long and storied history of working for public lands. NCWF has sought ongoing funding for lands protection, management, and access. The Federation has been a critical player in the effort to have national wildlife refuges, state parks, and state gamelands established across North Carolina. We've defended these lands from degradation and commercialization. Public lands have long been and remain today a core value to NCWF's wildlife and habitat conservation efforts, and underpin the organization's work to provide resource-based recreation for all.
Each of us, individually and collectively own our public lands and waters. They are landscapes that allow us to connect with America's history, hunt and fish with our friends, camp with our families, and enjoy the solitude and natural beauty that enriches the nation. Public lands are the foundation of the growing outdoor economy and are a critical underpinning for the travel and tourism industry that keeps North Carolina's economy strong.
Public lands are one of the defining features of America, and they come in many forms. There are national parks, national forests, national grasslands, national seashores, national wildlife refuges, federally designated monuments and wilderness areas, national wild and scenic rivers, and lands managed by the Bureau of Land Management. Each state adds its own public lands to the total. Collectively, this is "America's big backyard," where people of all social, economic, political, racial, and ethnic backgrounds are and deserve to be welcome.
National Forests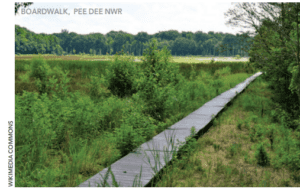 America's national forests and national grasslands comprise 193 million acres managed by the U.S. Forest Service, which is at 51 percent of the total the largest public land holdings of all federal land ownership. About 20 percent of the nation's water originates on these public lands, with 180 million people in more than 68,000 communities reliant on forest lands to capture and filter drinking water.
North Carolina is known for our public land forests. It is the fourth most- forested state in the country. Publicly-owned forests provide habitat conservation, beauty, carbon storage, air quality benefits, support for local and regional economies, and outdoor recreation opportunities. Of North Carolina's nearly 18 million forested acres, more than one million acres lie within national forests. There are four in North Carolina. The Nantahala and Pisgah in the western part of the state, Uwharrie in the Piedmont, and Croatan in eastern North Carolina. Pisgah National Forest is the second busiest in the country, with an estimated 6 million yearly visitors.
National forests in North Carolina have a rich history of working with partners to accomplish cross-boundary landscape level restoration and conservation objectives. NCWF is proud to be one of those partners, as we are undertaking a leading stakeholder role in working for a Nantahala-Pisgah forest management plan that will meet the many various management needs for a diversity of wild – life, habitats and uses.
North Carolina Game Lands
Need a place to hunt, fish, watch wildlife, or enjoy some other outdoor activity? Look no further than the 93 game lands that make up approximately 2.1 million acres of public land across the state. Managed by the N.C. Wildlife Resources Commission, these lands are an astonishing trove in the state. North Carolina has more acreage of managed game lands than all states east of the Mississippi, with the exceptions of Florida and Michigan, both of which include lake and ocean frontage as managed land. There is overwhelming public endorsement for conserving these lands, supported by documentation of the economic benefits provided by landscape conservation.
A study of wildlife-associated recreationists in North Carolina conducted by the Wildlife Commission in 2022 estimated the total economic impact of inland fishing, hunting, and wild life watching to North Carolina's economy. This includes both the direct and indirect economic impacts from public expenditures related to these activities. The study found the total economic impact of inland fishing to be $5.83 billion, the total economic impact of hunting to be $1 billion, and the total economic impact of wildlife watching to be $7.52 billion. Bird and wildlife watching, hiking, and field trials for dogs are some of the other popular outdoor activities that occur on game lands.
And while game lands provide excellent opportunities for hunting, fishing, birding, and other wildlife associated recreation, many of these areas are actively managed and play a key role in habitat conservation, especially for threatened or endangered species. A few examples include:
• Sandhills Game Land, which is managed for the federally endangered red-cockaded woodpecker.
• Voice of America Game Land has a population of Bachman's sparrows.
• Holly Shelter Game Land harbors three carnivorous plants, including sundews, pitcher plants and Venus flytraps, and is managed to enhance habitat for these populations.

Funding for game lands acquisition comes from a variety of sources including the U.S. Fish and Wildlife Service's Wildlife Restoration Funds, funds from the State's Land and Water Fund, monies from land trust partners, and from generous private donors. Funding for land management comes, in a large part, from Wildlife Restoration Funds, also known as Pittman-Robertson funds, which are derived from an excise tax on guns, ammunition, and archery equipment.
"The Wildlife Commission is committed to safeguarding public lands for the wildlife resources that depend upon them and to providing outdoor opportunities for the citizens of North Carolina," said the Commission's Land and Water Access Division chief Daron Barnes. "We will continue to seek opportunities to expand game lands."
NC Game Lands Also Encompass:
The largest intact and least disturbed bottomland forest ecosystem in the mid-Atlantic Region and some of the oldest cypress-tupelo trees on the East Coast, many at least 800 years old.
One of the largest, most intact remnants of longleaf pine ecosystems in North Carolina, a high-priority wildlife habitat. Among the species dependent upon this type of habitat are bobwhite quail, a variety of songbirds, fox squirrels and the federally endangered red-cockaded woodpecker.
The densest populations of black bear, white-tailed deer and wild turkey, and the highest density of nesting birds in the state.
A system of waterfowl impoundments opportunities for disabled hunters and anglers, and wildlife viewing platforms.
The mission of the National Wildlife Refuge System is "to administer a national network of lands and waters for the conservation, management and, where appropriate, restoration of the fish, wildlife and plant resources and their habitats within the United States for the benefit of present and future generations of Americans." Nothing could mirror NCWF's mission more closely than that of the National Wildlife Refuge System.
In North Carolina there 10 refuges headquartered in the state: Alligator River (this is the largest, at 158,000 acres), Pea Island, Pocosin Lakes, Mackay Island, Currituck, Mattamuskeet, Swanquarter, Cedar Island, Roanoke River, and PeeDee.
Additionally, Mountain Bogs and Great Dismal Swamp refuges have lands in North Carolina, but their administrative headquarters are based in adjacent states.
Wildlife Refuge Highlight
NCWF, in partnership with the U.S. Fish and Wildlife Service's Coastal Program, is working to improve habitat for the Eastern black rail, a bird species federally listed as threatened. The project will also restore Atlantic white cedar, a threatened forest ecosystem, to portions of Pocosin Lakes National Wildlife Refuge. In its initial effort, a two-stage ditch system will be installed to improve water quality and provide early breeding habitat for Eastern black rails. Management of hummocks and shallow water will encourage the growth of early successional emergent wetland habitat. Creation of this 43-acre wetland habitat will also benefit wintering migratory waterfowl and forest birds.
At a separate site, 30 acres of cropland will be converted to Atlantic white cedar to help restore this tree within its historic range and to provide natural space for public use. The newly planted Atlantic white cedar will be located adjacent to the Red Wolf Center in Columbia and will improve upon a previous restoration project. Walking trails and informational panels on the benefits of habitat restoration will be installed within the area. Both projects will serve as demonstration sites to educate community members, including local school children and landowners.
North Carolina Division of Parks and Recreation is a division of the N.C. Department of Natural and Cultural Resources, and manages more than 256,000 acres of iconic landscapes within North Carolina's state parks, state recreation areas, and state natural areas. It administers the N.C Parks and Recreation Trust Fund, including its local grants program, as well as a state trails program, North Carolina Natural and Scenic Rivers and more, all with a mission dedicated to conservation, recreation, and education. The state parks system welcomes more than 19.8 million visitors annually at 35 state parks, four recreation areas, and dozens of state trails and natural areas.
State Park: PISGAH VIEW
Location: Buncombe County
Acres: 1,387 (to date)
Cost: $13.3 million (to date)
Year: Authorized 2019
Located in Buncombe County 18 miles southwest of down – town Asheville, Pisgah View State Park rests in the shade of Mount Pisgah, one of the many beautiful sights of the Blue Ridge seen from the Blue Ridge Parkway. Small spring-fed waterfalls nourish the rich mountain coves that brim with spring wildflowers. Mammals, migratory birds, and amphibians all find a home here. For years, humans thrived in this
mountain valley, finding food, clean water, and shelter, culminating in the development of the Pisgah View Ranch as a place to explore nature and replenish the spirit. Today, the land still provides a retreat for all living things. For people, it offers a recommitment to life in harmony with nature. The park is expected to open to the public in 2025.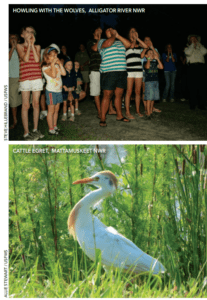 Satellite Park: RENDEZVOUS MOUNTAIN
Location: Wilkes County
Acres: 1,845
Cost: $0 (Transferred from N.C. Forest Service)
Year: Authorized 2021
Located 30 miles east of Boone, Rendezvous Mountain pro vides a unique, educational outdoors experience in a mountain forest environment. This forest in the Blue Ridge Mountains showcases magnificent mountain hardwoods in one of North Carolina's most scenic settings. Visitors can explore its features on a series of well-marked trails and learn about the ecology of the mountain through exhibits and displays along their way.
Park: BOB'S CREEK STATE NATURAL AREA
Location: McDowell County
Acres: 6,076
Cost: $8.8 million
Year: Authorized 2017
Located in McDowell County 42 miles east of Asheville, Bob's Creek State Natural Area includes sheltered covers and ravines, unique rock formations, and diverse natural ecosystems in the foothills. Conservation and low-impact recreation are paramount for the protection of numerous streams in the river basins of the Broad and the Catawba, and the preservation of rare species that have been documented by the North Carolina Natural Heritage Program.
Park: SALMON CREEK STATE NATURAL AREA
Location: Bertie County
Acres: 1,331
Cost: $2.4 million
Year: Authorized in 2017
This natural area along Salmon Creek hosts a variety of significant archaeological resources and is the subject of archaeological research by The First Colony Foundation. Algonkian Indian artifacts have been found on the site, as well as English artifacts indicative of settlement by the Roanoke colonists. Some researchers theorize the artifacts could provide evidence that a group of survivors from The Lost Colony relocated to this area after leaving Roanoke Island in the late 1580s. The property features three and a half miles of beautiful frontage along Salmon Creek, floodplain forests of cypress-gum swamp and bottomland hardwood forest. It also contains tidal freshwater marsh recognized as ecologically significant by the North Carolina Natural Heritage Program.
State Trail: WILDERNESS GATEWAY
Location: South Mountains range; McDowell, Rutherford,Burke and Catawba counties
Anticipated Total Length: 150 miles
Year: Authorized in 2019
The trail will protect and conserve riparian and other impor tant habitats and serve as an ecological corridor between larger tracts of natural lands. It will create pathways and walkable downtowns in more urban areas to provide safe and pleasant recreation and exercise opportunities where people live and work. Finally, by creating recreational opportunities with access to scenic wilderness and connections to multiple downtown areas, the trail will attract visitors from all areas of North Carolina and beyond.
What I Believe – A message from Scott Avett of The Avett Brothers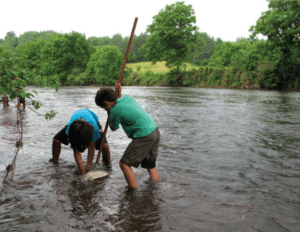 I grew up being outdoors. It's a natural thing to me to be outside, either in personal reflection, or even better, in enjoyment with my family. I fully ascribe to the belief that being outdoors in nature is an essential health benefit, for mind, body, and soul. I get recharged when I spend time outdoors and those feelings stay with me when I have rich outdoor experiences. My family and I are blessed with the ability to have our own outside space, surrounded by a variety of natural habitats. My state and nation are further blessed with having the foresight and stewardship of those in the past who set aside lands across the country for the public good. These Public Lands I refer to are not just a natural resource. They are a National Resource. Public is us. You, me, and all the citizens of this great country. Our band sings these words in concert regularly: "These lands are your lands, these lands are my land." This is what I firmly believe. Scott Avett is a North Carolina native son whose band, The Avett Brothers, is world renowned. Scott and his family life on a family farm and enjoy hiking in North Carolina's Uwharrie National Forest and exploring the state's mountain and coastal regions.