September Calendar of Wildlife & Habitat Happenings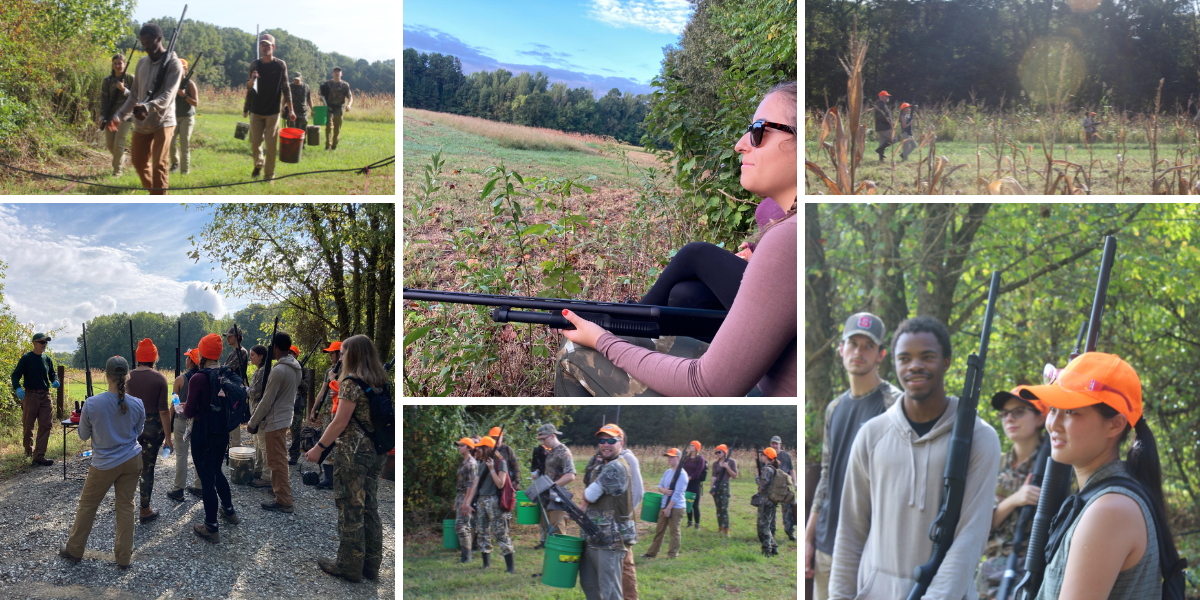 September Calendar
Opportunities to experience natural North Carolina are as diverse as our state's spectacular landscape. And there's no shortage of things to do, see and hear this month – from bugling elk and migrating monarchs to goose and dove hunting. See the September calendar below and explore NCWF's upcoming events.
Sept. 1: Canada goose season opens.
Sept. 1: Hurricane season begins. It's a good time of year to watch for unusual seabirds driven inland by storms and late-season-breeding amphibians.
Sept. 2: Bull elk are bugling in Cataloochee Valley. That impressive and unmistakable sound was absent from North Carolina for many years, but now it has returned.
Sept. 3: Dove season opens. Last fall, Academics Afield students learned about dove biology and management and spent a day at a shooting range observing simulated dove flights and learning ethical shooting practices. The training and education culminated in their first-ever dove hunt.
Sept. 4: Peak birth time for the copperhead, our most common and widely distributed venomous snake.
Sept. 4: It's National Wildlife Day! As Theodore Roosevelt said, "The wildlife and its habitat cannot speak, so we must and we will." 
Sept. 5: Stick insects (walkingsticks) are mating. Kidneyleaf grass-of-Parnassus is blooming.
Sept. 6: Hellbenders are breeding in our mountain rivers. Unlike most salamanders, these Appalachian giants spawn in the same fashion as most fishes. A male prepares a breeding chamber under a large rock and defends it against rival males. If he can convince a female to deposit her eggs beneath his rock, he will fertilize them externally and guard them until they hatch. Never move large rocks in hellbender streams; it destroys their homes and breeding habitat.
Sept. 7: Peak abundance for the little metalmark, an uncommon butterfly of our southeastern Coastal Plain.
Sept. 9: Wild muscadine grapes are ripening. Summer farewell is in bloom.
Sept.10: Archery deer season opens.
Sept. 10: Peak flight periods for several common and uncommon butterflies, including cloudless sulphur; Gulf fritillary; little yellow; and Aaron's, Dion, long-tailed, and Yehl skippers.
Sept. 11: American beautyberry is fruiting—don't miss its beautiful color display.
Sept. 12: Slender scratch-daisy is in bloom.
Sept. 13: Teal season opens.
Sept. 13: Whip-poor-wills and chuck-will's-widows have begun to depart for their wintering grounds. Most will overwinter in Mexico and Central America, but a few may spend winter along the Gulf Coast.
Sept. 14: September is usually great for butterfly-watching. Monarchs have declined recently, but their migrations can sometimes be spectacular. The Blue Ridge Parkway is a good place for monarch watching, with Tunnel Gap at milepost 415.6 being a perfect spot.
Sept. 15: Balsam Mountain gentian is in bloom. This North Carolina endemic occurs in a few counties in our southwestern mountains.
Sept. 16: Possumhaw berries are ripe and will persist through the winter. Blue-winged teal are returning. 
Sept. 17: It's National Cleanup Day!  Litter in the environment hurts both terrestrial and marine species through entanglement, suffocation, consumption and poisoning. It also leaches toxic chemicals into waterways and drinking water. Litter along roadsides attracts wildlife, including the prey of predator species such as owls and wolves, creating a vicious cycle that increases wildlife injuries or death due to vehicular collisions. NCWF's Keep it Clean, Make it Green habitat restoration project tackles the issue of trash's impacts on wildlife head-on by proactively organizing garbage cleanups, followed by native tree, shrub and pollinator plant installations. Help support our cleanup movement by joining an NCWF cleanup event in your community. 
Sept. 18: The Diana fritillary—a rare butterfly found only in our mountains and foothills—is flying, after its summer diapause. Tickseed sunflower and showy rattlebox are in bloom.
Sept. 20: Flowering dogwood berries are ripe. Watch trees for migrating scarlet tanagers, rose-breasted grosbeaks and other birds that relish these berries. Threadleaf false foxglove is in bloom.
Sept. 21: Hawk migration peaks. Thousands of broad-winged hawks and other species may be seen in migration at this time of year. Mahogany Rock in Doughton Park along the Blue Ridge Parkway is a perfect spot to witness this phenomenon.
Sept. 23: In the Sandhills, pine snake nests are hatching and Sandhills blazing star is in bloom.
Sept. 24: It's National Hunting and Fishing Day and National Public Lands Day! There are more than 5 million acres of public lands in North Carolina and every acre matters. These cherished lands provide habitat for fish and wildlife and enjoyment for all Americans. Head outside to hunt or fish and visit your favorite national park, forest or wildlife refuge!
Sept. 24-30: It's Take a Child Outside Week! Inspired by Richard Louv's book "Last Child in the Woods," it's an opportunity to help connect kids with nature and explore the outdoors. NCWF's Great Outdoors University (GoU) offers tons of short, fun videos and outdoors activities for kids. 
Sept. 25: One of the special treasures found in some North Carolina mountain bogs is the threatened bog turtle, the rarest and smallest turtle in North America. Their nests are hatching in the mountains and foothills. Fern-leaf false foxglove is in bloom in the coastal plain.
Sept. 25-Oct. 2: It's Fall Foliage Week. Did you know being a lazy fall gardener is a good thing? All those leaves are important for composting, mulching and insect habitat. Watch our Leave the Leaves webinar to learn more.  
Sept. 26: Most white-tailed deer fawns have lost their spots. Marbled salamanders have begun moving to their breeding sites on rainy nights. Males usually move in first. This boldly patterned salamander was adopted as North Carolina's official state salamander in 2013. Females deposit their eggs under sheltering objects or surface litter on land in or along dry woodland pools, attending them until winter rains inundate the pools and hatch the eggs. This provides them a head-start on most winter-breeding amphibians. 
Sept. 27: In the mountains, most wildflowers are nearly done for the season, but a few goldenrods and asters, New York ironweed and yellow ironweed are still in bloom. Carolina mantids are depositing their oothecae (egg clusters).
Sept. 28: It's National North Carolina Day! NCWF is proud to bring together citizens, outdoor enthusiasts, hunters and anglers, government and industry to protect North Carolina's wildlife and wild places and the many ways to enjoy them. North Carolina boasts healthy, bountiful and diverse flora and fauna – from the Great Smoky Mountains to the Outer Banks – and we want to help ensure it's valued by all its people and sustainably managed for future generations. You can Support our efforts and speak up for wildlife by joining NCWF, attending a local chapter meeting and getting involved with one of our wildlife programs. 
Sept. 28: Fall warblers and other migrants are moving through the state. Watch the trees for an exercise in challenging birding. Watch our webinar, Birding Basics with Lauren Pharr, hosted by NCWF's Island Wildlife Chapter. Pharr, an ornithologist and science communicator, gives a presentation on bird identification and birding basics.
Sept. 29: The first frosts can be expected any time now in the mountains.
Sept. 30: The nests of most turtle species will have hatched by now, but in some species, including sliders, cooters, painted turtles and box turtles, hatchlings may sometimes overwinter in the nest, not emerging until spring.