Make the Most of Your Trips to Wildlife Refuges in North Carolina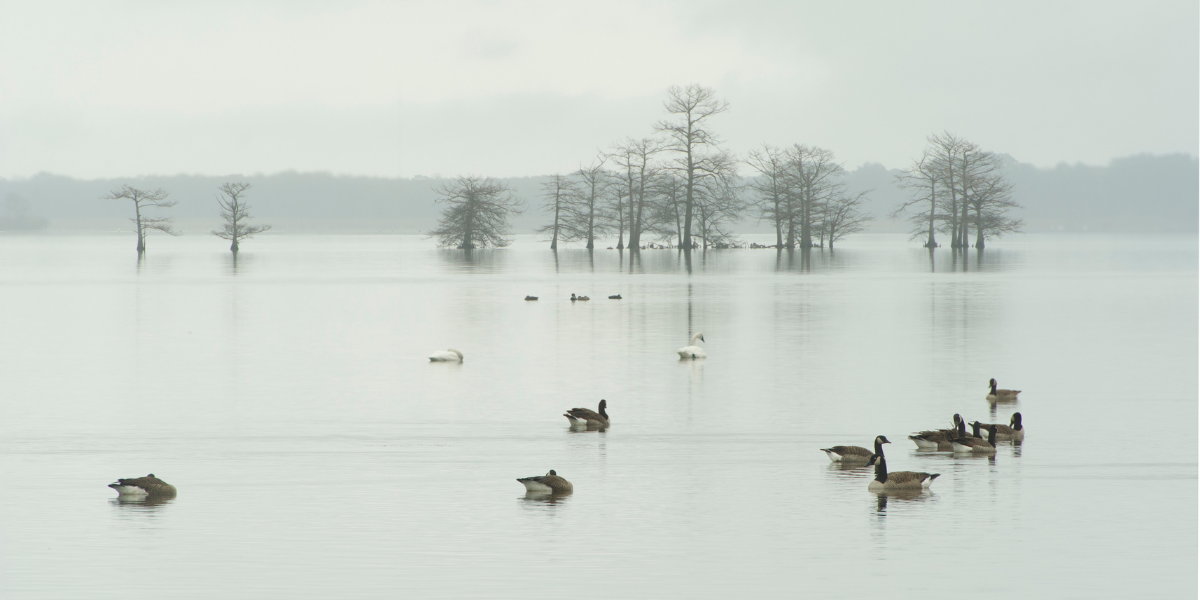 National wildlife refuges are expansive public lands packed with fascinating, unique species and habitat types, but they can be challenging to navigate. Biologist Katerina Ramos, North Carolina Wildlife Federation Red Wolf Education and Outreach Coordinator, shares insight below on what you can see and experience during a visit to wildlife refuges in eastern North Carolina. 
Save the Date for Guided Migratory Bird Outing, Jan. 12
NCWF members can save the date to join Ramos on Thursday, Jan. 12, for a waterfowl bird-watching adventure at the Pungo Unit of Pocosin Lakes National Wildlife Refuge in Pantego, NC. Participants will hopefully catch some spectacular shows in the sky and on the ground as the magnificent birds roost on the lake, cover the ground like blankets and feed on the farm fields and aquatic vegetation. They'll also learn about waterfowl migratory patterns, why the enormous flocks of migratory birds make the Pungo their winter home, and how moist soil and farm fields play a significant role in their habitat. Register here: NCWF Migratory Bird Outing.
Tips for Visiting Refuges Any Time of Year
Visiting the refuges during the summer is a great way to spend time outdoors with family and friends. From May to August, black bears are the most common large species that people can view on the refuges. Many people report seeing bears feeding in farm fields and seeing sows and their cubs. If you see quadruple cubs, this is a rarity due to abundant energy and survival resources. Ramos recommends checking out Wildlife Drive at Alligator River National Wildlife Refuge (ARNWR) to view black bears during the summer months. The drive is gravel and accessible to almost any vehicle, unlike other parts of the refuges.
Passing by the farm fields along Sawyer Lake, Long Curve, Link, and Bear Roads allows for optimal viewing of bears. The Pungo Unit at Pocosin Lakes National Wildlife Refuge (PLNWR) is also highly recommended for wildlife viewing. This Unit was an individual national wildlife refuge from the 1960s until PLNWR was established in 1990. Both PLNWR and ARNWR  are located within a five-county red wolf recovery area and the only place in the world where there's a chance to see a red wolf in the wild. 
North Lake Road of the Pungo Unit is great for viewing black bears since the road runs parallel to farm fields and can be traveled by foot or electric bike and vehicle.
This drive also enables wildlife viewers to appreciate the beauty of the pocosin habitat. Wildlife enthusiasts and photographers love the visibility of the bears and the breathtaking views along this road; however, the roads leading to North Lake Road can be in rough condition due to recent heavy rain events. To ensure travel through the refuges, it's best to have 4-wheel or all-wheel drive capabilities with clearance underneath the vehicle. During winter, the Pungo Unit is more prone to road closures and unpredictable conditions.
When you visit the refuges during the summer months, bring plenty of water to protect from dehydration while in remote areas. Bug repellent is also recommended if you are prone to getting bit.
Winter Wildlife Viewing 
Wintertime in eastern North Carolina provides a unique opportunity for wildlife viewing. The refuges become a temporary home for large numbers of wintering migratory waterfowl such as tundra swans, snow geese, Canada geese and migratory ducks, many of which travel from Alaska or the Canadian tundra. These birds come in flocks of tens of thousands and can be seen relatively easily with binoculars while driving through certain parts of the refuges. Mattamuskeet, Pocosin Lakes and Alligator River National Wildlife Refuges are great for viewing waterfowl. 
Each refuge provides a unique experience for observing waterfowl. At Mattamuskeet NWR, you can view many species close-up in the impoundment at Wildlife Drive, just off Highway 94 at the entrance to the refuge. In addition, you may also see birds feeding in agricultural fields adjacent to the refuges. 
From Nov. 1 through Feb. 28, much of the refuge is not accessible to the public. Still, Wildlife Drive, a loop around a managed wetland area, remains open and accessible during daytime hours. Don't forget to check out the visitor center and the Lodge while at the refuge. Mattamuskeet NWR provides a fantastic opportunity to view numerous duck species, including Northern Shovelers, Mallards and Pintails.
At Pocosin Lakes NWR, winter waterfowl viewing is predominantly limited to the Pungo Unit, where you can potentially see thousands of swans and geese in agricultural fields. When migratory birds are present, Ramos will offer wintering waterfowl programs. Call 252-216-6634 to learn more.
The best viewing locations are off Wildlife Drive, especially if you go around West Lake and South Lake Roads to see which birds are in the impoundments. Alligator River NWR has a few locations where people can observe migratory waterfowl, including Twiford Road, which is opened seasonally for wintering waterfowl viewing, and the agricultural fields along Twiford Road are flooded specifically for waterfowl use.
Always use caution when driving on the refuges as the roads can be unpredictable and wildlife can be around any corner. Maintain a safe distance between you and all wildlife and use spotting scopes or binoculars to get a closer look. This is a natural area where wildlife thrives and lives uninhibited, so stay on open roadways to avoid snakes or other potentially dangerous encounters with wildlife. Follow all refuge signs and stay within areas open to the public. Call ahead to ensure the refuges are open and accessible before scheduling your trip.
Red Wolf Center 
A trip to Pocosin Lakes NWR wouldn't be complete without a stop at the Red Wolf Center, where visitors can see 4-year-old red wolf brothers (2246M and 2247M) in the exhibit enclosure. Live streaming webcams allow viewers to watch (and occasionally hear) the red wolves as they move about the wooded area and interact, snooze, sniff, play, eat and maybe even howl.
Additionally, Ramos offers red wolf education programs every Wednesday at 10 a.m. and 3 p.m. and every Friday at 10 a.m.,1 p.m. and 3 p.m. Call 252-216-6634 to schedule a visit. Can't make it in person? Tune in to NCWF's Facebook page at noon every Wednesday for red wolf exhibit live streaming with Ramos. 
Webinars to Watch