Dedicated Donors Make it Happen for Wildlife and Habitat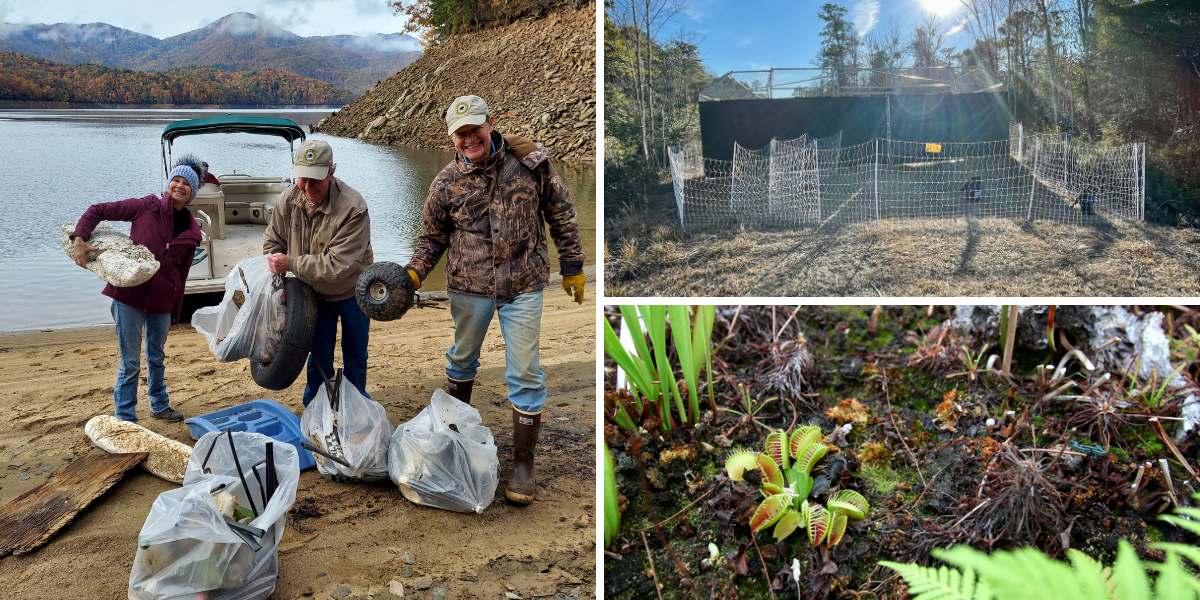 Time is of the essence when it comes to conserving North Carolina's wild lives and wild places, which is why we're so grateful to have passionate and dedicated donors on our side who allow us to take swift action on behalf of wildlife and habitat. Recently, NC Wildlife Federation champions Loti Woods and Dale Weiler of Weiler Woods for Wildlife, Hugh MacRae and Bill and Mary Staton stepped up in a big way for red wolves, Venus flytraps and Fontana Lake.
Preparing red wolves for release
Woods and Weiler are spending their retirement years working to protect and help save red wolves, which they describe as "quintessential underdogs" and "magnificent creatures that truly are an American treasure." So they didn't hesitate when NCWF and the U.S. Fish and Wildlife Service needed funding for a hard-sided acclimation pen for a red wolf pair that will be released this spring.
Moye Fence helped design the electrified bear-proof acclimation pen for the Red Wolf Recovery Program and constructed it on the site with a crew in less than five hours. The pen, which can be taken down and moved to a different location, will be used for future red wolf releases.
Register to join Katerina Ramos, NCWF's refuge volunteer and program coordinator for an educational talk and tour at the Red Wolf Education and Health Center in Columbia. Located on the Pocosin Lakes National Wildlife Refuge, the public education center houses red wolf displays and educational materials and offers a viewing area for a pair of captive red wolves. The center is a collaborative effort between U.S. Fish and Wildlife Service, NCWF and National Wildlife Refuge Association.
Carnivorous bog garden helps restore flytrap habitat
The Venus flytrap is on the list of threatened species and is under assessment to be listed as endangered due to habitat loss by development, mismanagement of habitat through fire suppression, and poaching of natural populations. MacRae's gift supports a carnivorous bog garden to restore flytrap habitat and help reduce plant poaching at Carolina Beach State Park. The bog garden will be located behind the visitors center to allow people to see the native carnivorous plants in their natural habitat. Future plans include the installation of educational signs to raise awareness about flytraps in the wild, the reason for their decline and how people can help.
Cleaning up Fontana Lake, one recycled tire at a time 
Waste and poor stewardship adversely affect the environment, but with a little bit of rethinking, the Statons believe we can make our lives simpler and positively impact the planet. In honor of Bill's money management firm, Novare Capital Management, the couple matched a grant from the Appalachian Trail Conservancy to clean up litter on and around Fontana Lake and its islands. With their support, 100 volunteers came together to remove and appropriately dispose of 50,000 pounds of debris and trash, including more than 20 tires. 
Working together to make a difference for wildlife conservation
Wildlife and their habitats face many threats to survival, but thanks to donors like Loti Woods and Dale Weiler, Hugh MacRae and Bill and Mary Staton, we can work together to give them a fighting chance. Join the cause and help NCWF preserve wildlife and wild places for our children and future generations.