Getting Started Outdoors (GSO) Workshop Teaches Beginners the Ins and Outs of Hunting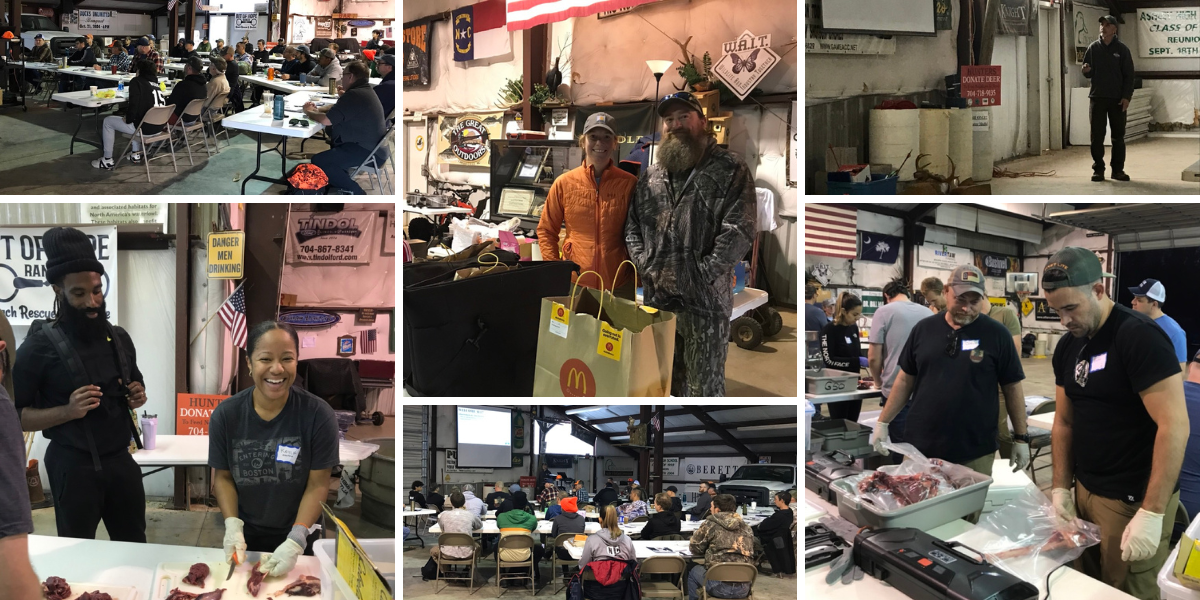 Thirty-nine beginner and novice hunters spent the day at Wood Duck Farm in Gastonia on Oct. 15, learning the ins and outs of deer hunting at a Getting Started Outdoors (GSO) workshop. The event was geared toward those new to hunting but who don't know how to get started and don't have a hunting community support network. It was made possible thanks to the kind support of the Jarman family, North Carolina Wildlife Federation's Gaston PAWS community wildlife chapter, N.C. Wildlife Resources Commission and NCWF staff. 
GSO workshops address barriers to hunting and teach participants the skills necessary for a successful hunt. After completing the workshop and mentored hunt, individuals are one step closer to hunting alone or with support from new contacts within the hunting community. 
"We provide a mentoring experience for those who lack social support through an existing hunting family member or friend," said Walter "Deet" James Jr., hunting engagement specialist with N.C. Wildlife Resources Commission, who helped develop the workshop and prepared venison chili for attendees.
"Non-traditional and underrepresented groups present a uniquely promising audience for R3 – recruitment, retention and reactivation efforts and GSO workshops are designed to build and support that audience."
Workshop topics included:
The ecological, economic and socio-cultural benefits of hunting and the historical connection between hunters and wildlife conservation.

Hunting laws, regulations and the importance of ethical hunting behavior.

Hunting equipment and gear overview, including safe hunting practices with firearms, handling and storage.

How to incorporate "no-waste" techniques into hunting practices, how to prepare and cook game meat and healthy recipes.

Basic deer biology and behaviors and deer hunting techniques.

Places to hunt, people to hunt with, and nature-based ways to improve skills.
After completing the one-day workshop, organizers selected participants for mentored deer hunts on private land in Gaston County while the remaining participants can attend an organized hunting opportunity near Raleigh. The hunts on private land are generously donated by program supporters who recognize the importance and benefits of creating ethical hunters and future conservation leaders.
"We couldn't offer existing and future R3-related programs without our conservation partners and volunteers," James said. "These dedicated and passionate individuals generously give their time, talent, access to private property, and, often, dime to benefit and support wildlife species and habitat conservation in North Carolina."
Getting People Outside through Academics Afield
Research shows many people are woefully disconnected from nature. A recent national study found that, although many people have an enduring interest in nature, their ability and opportunities to pursue those nature-based interests are increasingly limited and inadequate.
In 2019, Georgia Wildlife Federation founded Academics Afield to build upon current Recruitment, Retention and Reactivation (R3) programming and introduce college students from nontraditional backgrounds to hunting and shooting sports. 
In a college setting, program participants are more likely to come from non-hunting backgrounds and fall outside of the current demographics of hunters than participants from other hunter recruitment programs. NCWF partnered with N.C. State University, N.C. Wildlife Resources Commission, other conservation groups, and Wake County Wildlife Club in 2021 to launch Academics Afield in North Carolina. N.C. Central University in Durham was recently added as a program partner.
The year-long Academics Afield program offers R3 wildlife-related curriculum and quality mentored hunting and shooting sports opportunities to participants while evaluating their experiences. Academics Afield reduces barriers for college students from these nontraditional backgrounds, and many participants have different reasons for getting involved such as the desire to support wildlife conservation and management, harvesting and preparing their own meat, and getting in touch with the land.
Academics Afield helps bridge the gap between students who have a heritage and history of hunting and those who don't. Participants gain extensive safety training and shooting experience and learn why hunting, conservation and ethics matter. They also have opportunities for in-field, mentored hunting experiences by peer instructors.
For more information, contact Dr. Liz Rutledge, NCWF director of wildlife resources, at [email protected].