NCWF Honors Histories, Cultures & Perspectives of Indigenous Peoples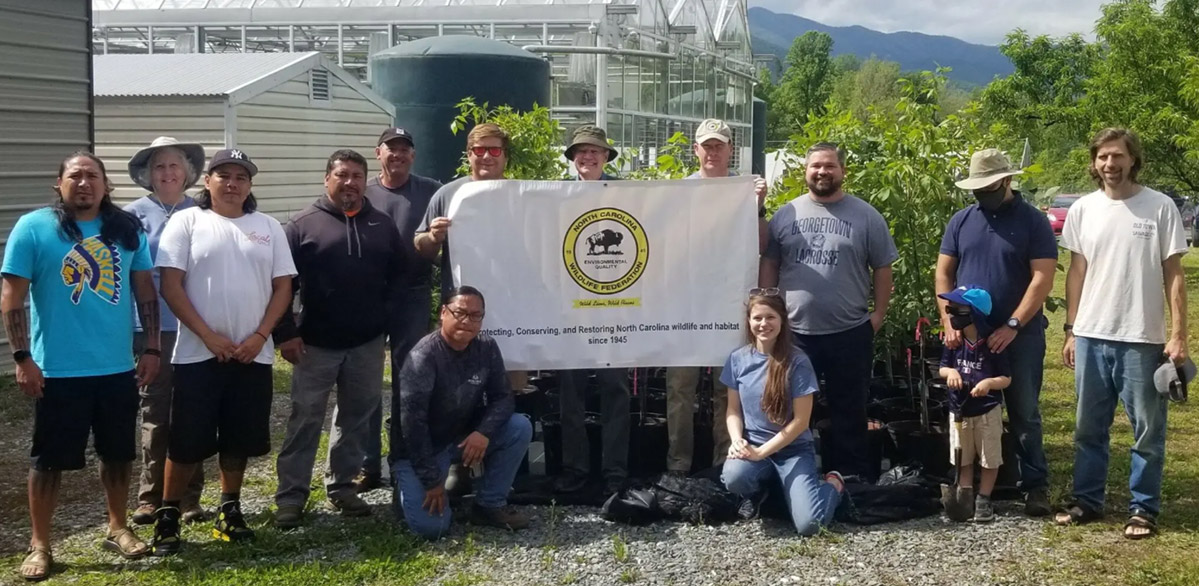 In recognition of Indigenous Peoples' Day, North Carolina Wildlife Federation celebrates the first people to protect, conserve and honor the land we now call North Carolina. More than once, we've had the opportunity to be humbled by the history and knowledge of the native tribes residing in North Carolina.
Most recently, NCWF joined a letter in support of the Tribal Wildlife Corridors Act of 2021 to Senate Indian Affairs Committee Chair, Senator Brian Shatz and Vice-Chair Lisa Murkowski and House Natural Resource Committee Chair, Representative Grijalva and Ranking Member, Representative Westerman. The Act focuses on increasing capacity and resources for Indian Tribes to properly and effectively manage wildlife and habitat connectivity, which also benefits adjacent land jurisdictions including private, local, state and federal.
During NCWF's 2019 Conservation Achievement Awards Ceremony, the Coharie Tribe was the recipient of the Water Conservationist of the Year award. When the Coharie Tribe of eastern North Carolina looks at its family tree, it sees a river. For the Coharie people, this creek—the Great Coharie River—is its ancestral mother, the deep spring that has tied its people together across time. The river was a cultural and community touchstone for the tribe until the last few decades when hurricanes clogged the river with debris and the water slowed and stagnated, choked by too many beaver dams and too little flow.
Through the efforts of the Great Coharie Initiative and several volunteers, 20 miles of access to the Coharie and increasing the vitality of the community through reconnecting with the sacred waters. Now, the Coharie Tribe is gathering once again at the water's edge with their children and grand-children—and grandmothers and grandfathers— coming to the river to celebrate what we all should be celebrating on North Carolina streams: how free-flowing water lifts and fills the spirit, and carries it downriver, where there is always another stream in need of care.
Earlier this year, NCWF learned about the cultural significance of hickory trees from tribe members of the Eastern Band of Cherokee in western North Carolina. Hickory trees are a valuable food source for many wildlife species including turkey, wood duck, bear, foxes, chipmunks and squirrels, who voraciously consume the calorie-rich nuts. Not only do hickories benefit wildlife substantially, but they are also culturally very important. One way hickories are used by Cherokee citizens is to use the hickory wood for stickball sticks. Cherokee Stickball, colloquially called Indian Ball, is a mix of lacrosse and football. It is played on a field with two goal posts set on opposing ends with a minimum of 12 men per team.
Although stickball is now played recreationally with several community teams throughout the Cherokee reservation, stickball was historically an alternative to war and a way to settle disputes among tribal factions.
This Indigenous Peoples' Day, we honor the histories, cultures and perspectives of Indigenous peoples and their ancestors who existed in these areas for thousands of years. To learn more about indigenous lands and to make land acknowledgments, visit this map of indigenous territory history.