NCWF Deploys Large-Scale Rock Fishing Habitat at Hagers Creek Pier on Lake Norman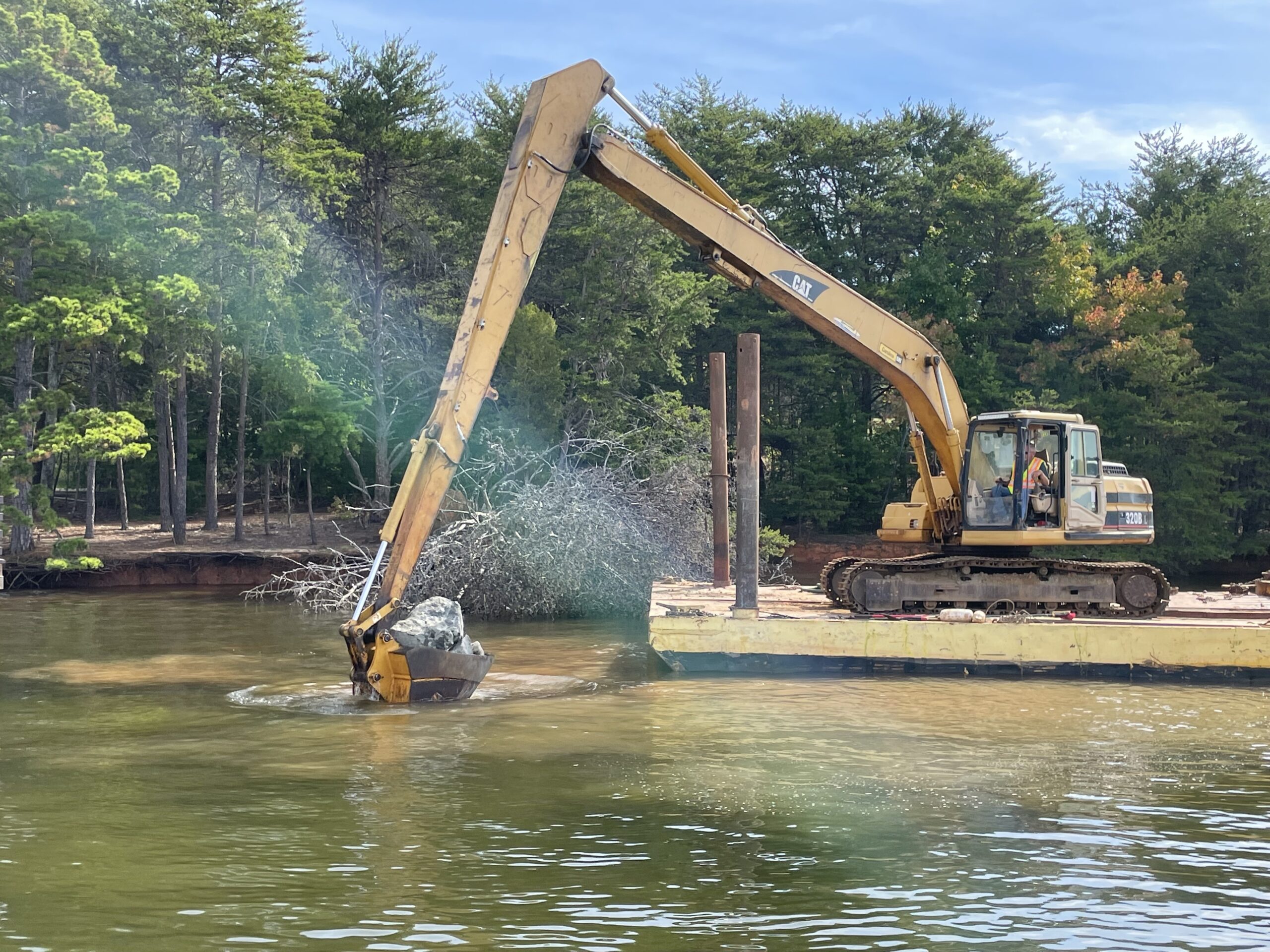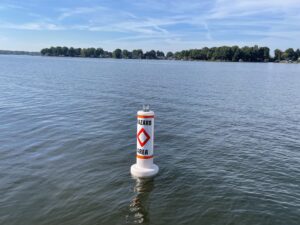 Much of North Carolina Wildlife Federation's habitat restoration work takes place on the ground, whether it's cleaning up litter, planting native trees, managing lands or expanding wildlife crossings. 
And other times, our efforts happen on and under water. 
Such was the case recently when volunteers and staff members from NCWF, Duke Energy, Lancaster Custom Dock & Lift Systems and Jim Myers & Sons (JMS) headed to Lake Norman to install caution buoys and large-scale reef rocks off the Hager Creek Access Area fishing pier. 
The improvements – funded through a Habitat Enhancement Program grant – will help attract fish, support fish habitat and spawning, and reduce jet ski and boat traffic interference. The enhancement program benefits fish, wildlife and habitat along the Catawba-Wateree and its North and South Carolina tributaries.
Hagers Creek improvements
In 2020, Duke Energy completed the Hagers Creek public access area and fishing pier on Lake Norman as a Catawba-Wateree Hydroelectric Project License requirement. The improvements are part of ongoing efforts to make quality access areas available for public recreational use on Duke Energy-managed lakes. 
"Typical with older large reservoirs, the bottom of Lake Norman is generally barren and doesn't provide habitat structures such as woody debris, vegetation and rock outcrops that attract fish," said Tim Gestwicki, NCWF CEO. "The structure enhancements will increase ecological viability, food, cover and spawning opportunities."
NCWF Board Director Billy Wilson and Lake Norman Wildlife Conservationists Chapter President Terry Marr joined Gestwicki on the installation project. JMS, a third-generation family business and one of the nation's leading designers and manufacturers of water and wastewater treatment equipment and systems, provided stainless steel anchors for the buoys. 
But President and CEO Dave Myers didn't just drop the anchors and leave. Instead, he came ready to volunteer – and welcomed the chance to spend the morning on Lake Norman. "I've been enjoying this lake for 50 years and had an opportunity to give back," he said. "As I head toward retirement and think about what's a good area to invest in, this could be a stepping stone to future nonprofit activities."